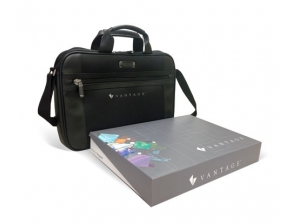 KSDEMO-CASE-ART
Keypad demo case- Artisan
Features
KSDEMO-CASE-ART
(1) Vantage branded messenger bag and box
(1) TrimLine II Oil Rubbed Bronze and bronze EasyTouch II buttons (KS14XE-OBYA)
(1) TrimLine II Black Anodized with black EasyTouch II buttons (KS12TE-BKYA)
(1) TrimLine II Ivory with black RP-Touch buttons (KS14XR-BKYA)
(1) SoftLine Clear Anodized with white SquareTouch buttons (KS14XS-AWYG)
(1) SoftLine Ivory with brown FineTouch buttons (KS14XF-BRNG)
(1) Align Satin Brass with bronze EasyTouch II buttons (KS15XE-OBYA)
Variety of faceplates and button styles
By pairing classic lines with rustic finishes, the artisan style
imbues your home with a sense of warmth and luxury.
This Demo case is ideally to demonstrate the Vantage keypads to your end-user,  architect, interior designer, decorateur and many more.
it contains multiple keypad finishes and battery pack with station bus pigtail so that you can demonstrate the Vantage keypads status feedback LED's.
By continuing to use the site, you agree to the use of cookies. more information
The cookie settings on this website are set to "allow cookies" to give you the best browsing experience possible. If you continue to use this website without changing your cookie settings or you click "Accept" below then you are consenting to this.