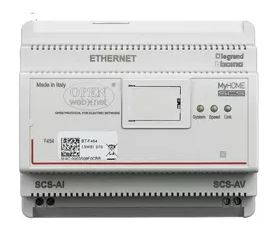 F454 / F459 / Server1
MyHome Gateway – Vantage HVAC Integration
Features
My Home – Vantage integration
Features:
Load control
Shade control
Climate control
Security integration
As part of its Premier Partner Program, Vantage Equinox products support the Legrand My Home OWN IP Ethernet gateway in order to control devices connected to My Home Legrand/BTicino SCS System. After setting up the My Home objects in Design Center, the Equinox lighting, shade, climate, scene and security widget user interface automatically appears on the EQ41 and EQ73 in-wall touch screens and on mobile devices installed with the Equinox App (available for iPhones, iPads, iPods, and Android products).
More information in regards to features and functionalities can be found in the driver help file. In addition, you can download here the document that will explain in detail the correct use of the thermostat functionality in the Infusion Controller with the driver "Legrand/My_Home_OWN_IP". This document is a detailed guide how to use the different MyHome thermostat components in "Master Probe Mode" and "Hotel Mode" configuration.
Communication between BTicino MyHome SCS and the Vantage systems must be established via Ethernet connection through a MyHome Webserver, using the MyHome OpenWebNet Language.
By continuing to use the site, you agree to the use of cookies. more information
The cookie settings on this website are set to "allow cookies" to give you the best browsing experience possible. If you continue to use this website without changing your cookie settings or you click "Accept" below then you are consenting to this.