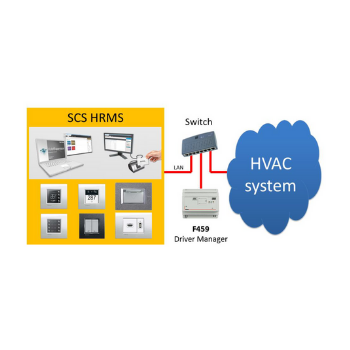 TS-00041
SCS own router
Features
• Address of the associated HVAC indoor unit.
• Type of probe available (with or without FAN adjustment).
• Configuration of the supported operating modes (Heating, Cooling or both).
• Management of the operating status indicator of the probe.
• Airflow direction adjustment: Automatic (no Driver intervention) or Pre-defined (different positions for Heating and Cooling operating modes).
The objective of this driver is to manage HVAC heating and cooling indoor units through SCS HRMS(**), solution based on SCS Thermostats with display and actuators (optional) . The solution allows the association of a SCS HRMS temperature zone to one (or a group) HVAC indoor unit in order to transfer the following settings: Set-point, Operating mode and Power-ON, Fan speed.
To discover the installation-sheet and even the test driver, please log-in to our dealer reserved area: https://www.legrandintegratedsolutions.com/login
By continuing to use the site, you agree to the use of cookies. more information
The cookie settings on this website are set to "allow cookies" to give you the best browsing experience possible. If you continue to use this website without changing your cookie settings or you click "Accept" below then you are consenting to this.