Project Challenge
The new space-themed Station Cosmos hotel is part of a €22 million investment, and its inauguration is the first step in Futuroscope's "resort" strategy which aims, in the long term, to enable the park to position itself as a hotel on a European scale as a destination for holidays and short stays. In this 4-star Station Cosmos hotel, guests become passengers of a space base and sleep in rooms organized as comfortable and futuristic cabins where they get to feel like true intergalactic heroes for a highly immersive stay experience. The storytelling that has been built around this hotel is rich and flawless and it justifies even the slightest element of decoration.100% change of scenery guaranteed!
The Solution
This gigantic space exploration base revolves around three buildings located in a mineral landscape, inspired by that of Mars. The 76 rooms of the hotel are designed like spaceship cabins. Each cabin evokes the space theme in every detail to offer an immersive experience such as the illusion of a weightless bed or the room automation system to control the inside equipment. Noteworthy is the design of the corridors leading to the bedrooms, punctuated by arches and luminous columns, reminiscent of the futuristic corridors of many science fiction films. To complete the experiential dimension of Station Cosmos it was necessary to equip this "spaceship" with equally cutting-edge installations with high-end design such as the guest room management system and the beautiful nickel velvet Celiane wiring devices from Legrand. The complete, intuitive, and customizable UX controllers with their elegant touch technology proved to be the perfect choice to support such a "spatial" project. Guests can have full control of the room functions thanks to the bedside UX touch controllers configured with different customizable scenarios including temperature, lights, and shutters, comfortably accessible while in bed. Specific scenarios, such as welcome guest, welcome staff, or even good-bye guest (i.e. room set on ECO mode) allow major comfort along with greater energy efficiency and waste reduction when rooms are not occupied or during the staff operations. Not to forget the windows contacts for energy saving that set the thermostat on anti-freeze/ thermal protection mode when windows are opened.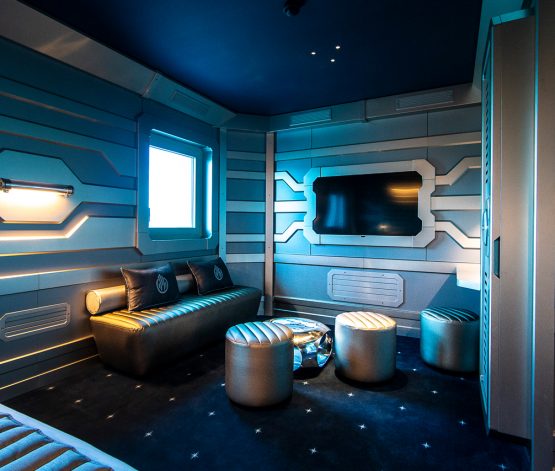 Project Benefits
Avant-garde structure equipped with innovative installations for maximum comfort and an immersive guest experience
 
PRODUCTS INSTALLED
GRMS BACnet Room controller
Bedside UX Touch
UX Touch keycard holder
Nickel velvet Celiane wiring devices
1 Cabinet per room
Electric vehicle charging stations
 
CONFIGURATIONS made available thanks to third party integrations:
BMS (Building Management System) & Supervision Niagara
NFOR PMS (Property Management System)
SALTO (access control)
HVAC WIT (supervision) – Siemens DXR2 HVAC (for heating, ventilation & AC)
PROJECT PLAYERS

Owner: Parc du Futuroscope 

Building Design Office:  BET Poureau 

Installer: LUMELEC

System Integrator: BC Connectibat

 
Download the full case study here.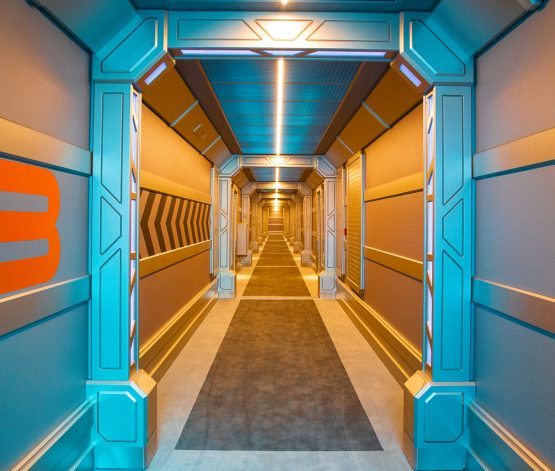 By continuing to use the site, you agree to the use of cookies. more information
The cookie settings on this website are set to "allow cookies" to give you the best browsing experience possible. If you continue to use this website without changing your cookie settings or you click "Accept" below then you are consenting to this.