Project Challenge
The hotel management team rolled out a new hotel management system to optimize the quality of the guest experience. In combination with the Vantage system this enables automation of room amenities such as lighting and curtains and allows related relevant information to be passed on to the staff. The InterContinental Group chose the Vantage InFusion system on account of its performance and stability. The team also was enthusiastic about the elegant style and high-quality finishing of the keypads. In each of the 43 luxury suites there is a compact equipment compartment, concealed from the guests, that houses the necessary dimmers and relays. This keeps the cable lengths short, and it allows maintenance staff to perform their tasks without blocking the corridor.

The Solution
The Vantage keypads installed in the 43 suites and penthouses can activate various scenarios. Some scenarios are intended for the guests, and others for the staff. For example, the night light function gradually dims the room lighting over a period of 30 seconds and switches on the night lighting. Another function is TV Mood, which switches on the television set and dims all lighting. The Turn Down Task function is intended for the hotel staff. This hidden function, which is concealed to prevent accidental activation by guests, resets the Make Up Room function. The staff use this function after cleaning the room. When the guest returns to the room later on, it is immediately apparent that the room has been cleaned.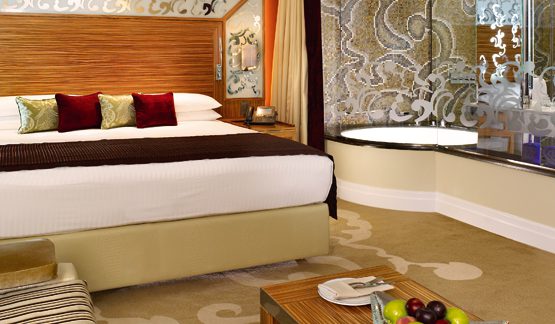 Project Benefits
Today's Hotel guests primarily look for a relaxed and pleasant atmosphere in a comfortable, clean and attractive room or suite. This allows them to relax in pleasant surroundings after a long day's work or busy holiday activities. The Vantage system provides significant added value in the suites and penthouses of the InterContinental Citystars Hotel. Guests see that many of their wishes can be fulfilled by simply pressing a button. For instance, they can open or close the curtains or activate the "do not disturb" function without getting out of bed. It's hardly surprising that potential guests are more and more inclined to take the availability of such features into account when choosing a hotel.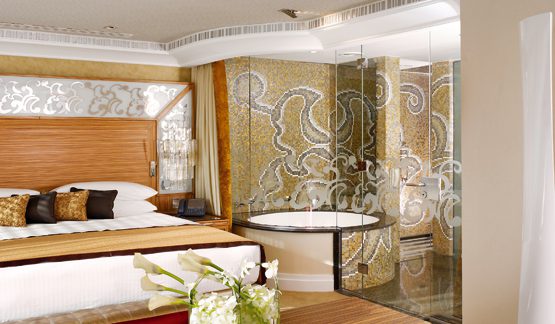 By continuing to use the site, you agree to the use of cookies. more information
The cookie settings on this website are set to "allow cookies" to give you the best browsing experience possible. If you continue to use this website without changing your cookie settings or you click "Accept" below then you are consenting to this.